"MOTOGIRO D'ITALIA 2016 – FINISH LINE !
from www.umbriaon.it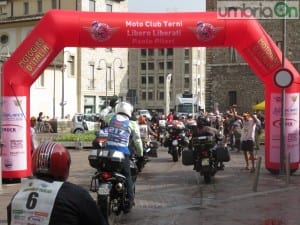 Motorcycle festival in Terni Saturday afternoon. Shortly after the 17 has in fact ended in the city center – the start had been June 18th from piazza Buozzi – the 25th edition of the historic commemoration of the 'Motogiro of Italy' (this year called memorial Paolo Rossi), event organized by the Moto Club Terni 'Liberati-Pileri'. A week that has seen the participation of one hundred centaurs in the seven stages of the event.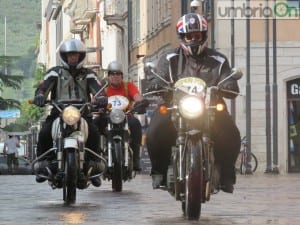 The stage of 399 kilometers, Terni-Ferrara, opened the Mototour, followed by the Ferrara-Trieste (366), the Trieste-Bled (Slovenia, 209), the Tarvisio-Rovigo (341), then Friday's arrival in Arezzo (324) and Saturday the return in Terni after a 'special' in Magione. A total of 1890 km routes. This edition, the year 2016, it has been a special one, because for the first time the event has officially entered the international calendar of the FIM (International Motorcycling Federation).

In Terni, the centaurs arrived on board of various Ducati, MV Agusta, Morini, Gilera, Benelli and Rumy, 'escorted' by the carabineers on motorcycles and the municipal police. Festive afternoon for all fans of the sector: in the group, for a final salute, even Massimo Mansueti and Giorgio Natali, respectively presidents of the Moto Club 'Liberati-Pileri' and 'Borzacchini Historic'.

________________________________________________________________________
 IN SEARCH OF A LOST PERIOD, A PASSION'S RECOLLECTION STARTED ONE HUNDREDS YEARS AGO.
The lost time is not passed trough because it's a time to pursue and to recover again. To go along again that such heroic feat path that saw in 1914 GAZZETTA DELLO SPORT (Magazine) and UNIONE SPORTIVA MILANESE (Milan Sport Union) to organize the PRIMO GIRO MOTOCICLISTICO D'ITALIA (1st Italian Motorcycle Tour) of our Italy, named again in those times CIRCUITO D'ITALIA (Italian Circuit), and saw the victory of the Italian Oreste MALVISI riding an motorcycle ARIEL. One hundred years have been passed since when the staring flag was dipped on the first fabulous event's edition, and yet this contest enjoy good health.

The atmosphere you breath is amazing, and that brings Motogiro d'Italia an unique experience, as for the contestants as for the large number of spectators, in our beautiful Italy scenery.MASSIMO MANSUETI
Chairman of M. C. Terni "Libero Liberati – Paolo Pileri"

————->

more post>